When ten-year-old Reyna was placed in a state orphanage, her mother, Ana Maria, was heartbroken. Reyna had been caring for her four nieces and nephews after Ana Maria left their small village in Guatemala to look for work in a nearby city. But when authorities became aware of the situation, all of the children were removed from their home. Fortunately, CRS' Changing the Way We Care team in Guatemala was able to help.
Changing the Way We Care focuses on the reintegration of children from residential to family-based care. The program helped connect Ana Maria with a social worker and psychologist who helped her get local employment and prepare for her children and grandchildren to return home. Over a period of six months with the support of a caseworker, Ana Maria was able to establish goals for her family and herself—she learned parenting skills, how to manage household economics and even enrolled all of the children in school.
Finally, Reyna was reunited with her mother. CRS also worked with Reyna's older sister, Delila, whose four children had been in Reyna's care. Both Ana Maria and Delila are enrolled in CRS case management and continue to receive regular home or virtual visits and one-to-one parenting skills training, counseling, and household economic assistance. Delila is grateful for the reunion and ongoing guidance. "Now my children are doing much better because they are with me," she says.
Delila has since married and had a baby. Her husband, Miguel, is ready and willing to be a father to all five of Delila's children. "I love them like my children," Miguel says. "God has given them to me as my children. The psychologists have taught us how to better treat our children. We're going to raise them and set a good example."
Delila, Miguel and their children now live near Ana Maria and Reyna. According to caseworker Marta Xico Xicay, both families are doing well and visit one another often.
Marta, who serves on CRS' Changing the Way We Care team, is proud of the work she does. It is, she says, an opportunity to help "transform the reality—in many cases, the unjust reality—of many people."
I like my job because it is child focused. Due to their age, they are often invisible to others and that puts them at greater risk of having their rights violated."

—Marta Xico Xicay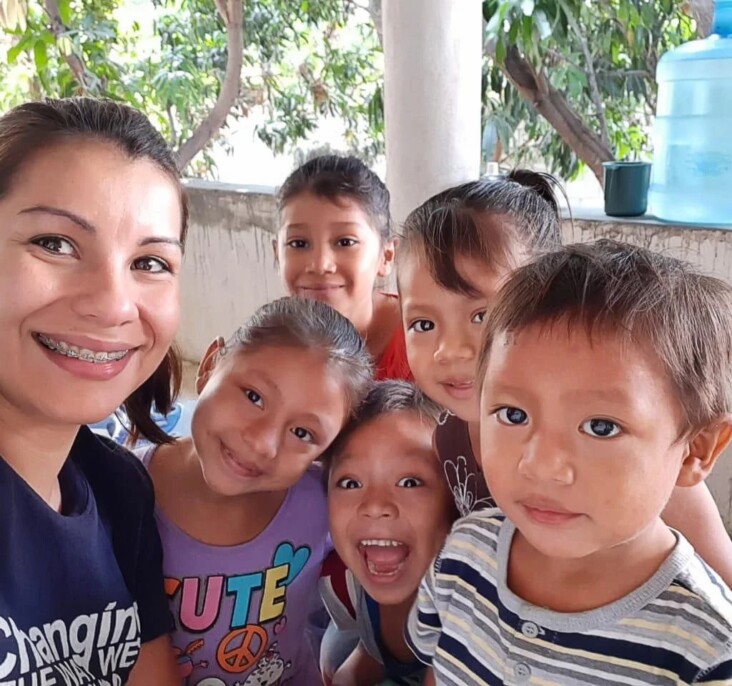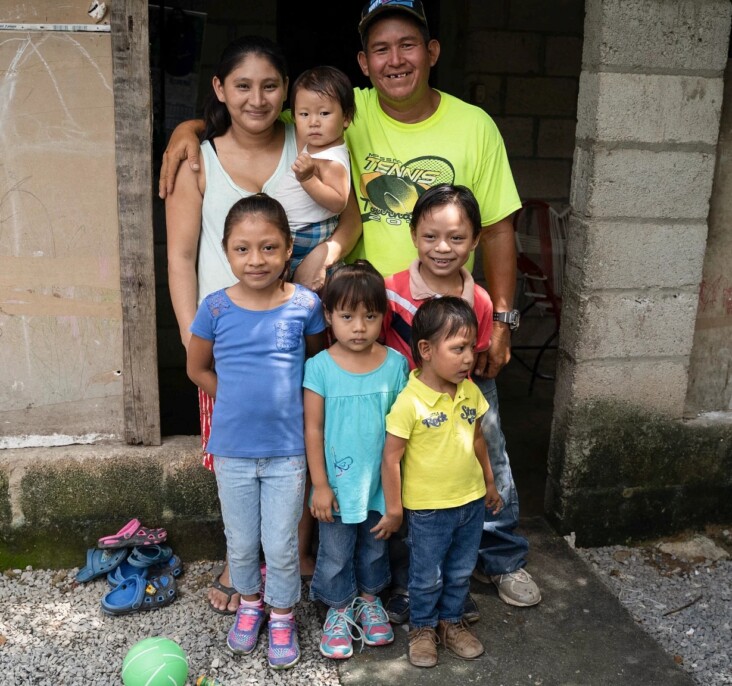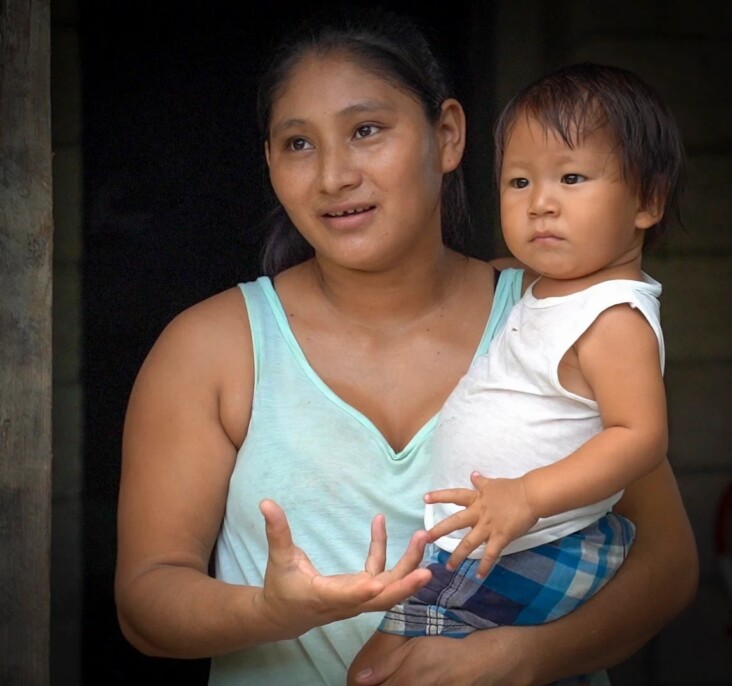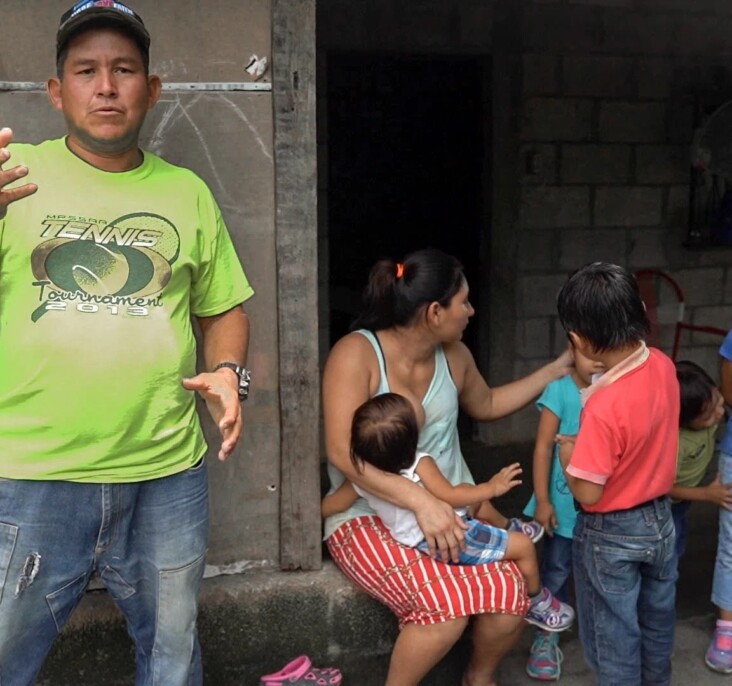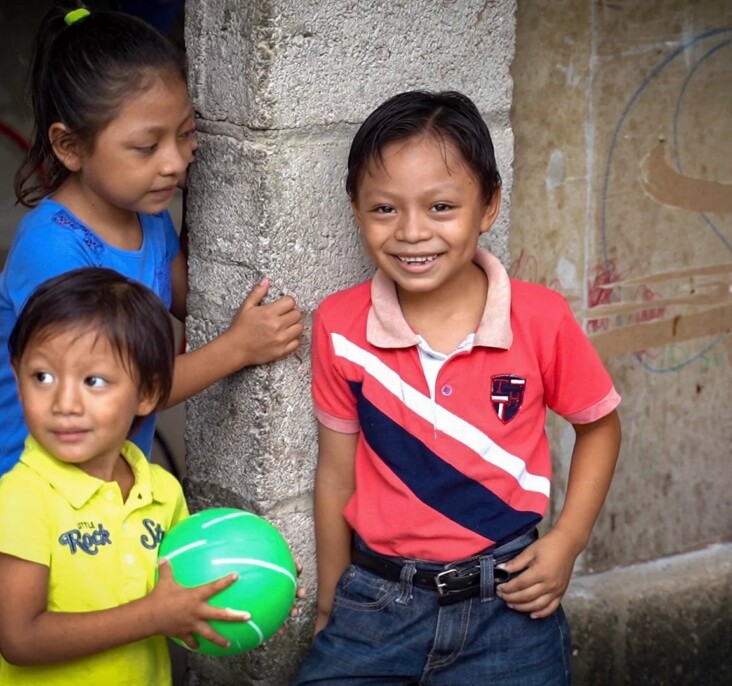 Children Deserve to Laugh
CRS seeks to keep children with loving families. Dr. Shannon Senefeld, CRS' vice president of overseas operations, is a champion of programming that ensures that children are raised in families so they can meet their greatest potential. Children deserve to laugh, Dr. Senefeld says, and to do that they need to feel the security of love. "They need to know that they're cared for. They need to know that they're safe, that there's some stability in their lives," she says.
Millions of children around the world are growing up in orphanages. Shockingly, most of these children are not orphans. "The reality is that about 80 to 90% of children living in orphanages have a living parent," Dr. Senefeld continues. "The parent can't take care of them or feels they can't take care of them. The number one reason for that is poverty." CRS is committed to ending this practice. Orphanages are a symptom is poverty, not a solution to it.
According to research, for every three months in an institution, an infant or toddler loses one month of development. Neglect and lack of stimulation can have severe negative effects for children, both in the short term and the long term, Dr. Senefeld says.
But CRS is working to strengthen families and allow children to thrive in the best possible environments for them. Over the next 10 years, we will help one million children reach their full potential by reuniting them with their families or preventing them from being separated. We will help caregivers learn and practice positive parenting, connect families with supportive communities, help children access education, health and social services, and build families' resources through savings groups, cash grants, school vouchers and financial education. Together, we can transform the lives and futures of children around the world.
A Comprehensive View of Children
Brian Njoroge is an active 4-year-old boy. But when his mother first brought him to a health center at age one, he was listless. He was malnourished and suffering from an undiagnosed developmental delay. He didn't interact with others or express emotion.
From birth to age five, children are growing fast—physically, mentally, emotionally. This period is pivotal in the development of a healthy child. Thanks to a dedicated group of religious sisters trained through a CRS project called Strengthening the Capacity of Women Religious in Early Childhood Development, or SCORE, Brian's parents got him the help he needed. CRS works through national associations of sister congregations in Kenya, Malawi, and Zambia to help families understand the importance of nutrition and feeding and communication early and effectively with their children.
Dr. Senefeld is a mom of four children herself. She wants children everywhere to have the same thorough care and fulfilling opportunities her own kids have. "In the United States, when I take my kids in for their doctor's visits, they ask about their social development, their cognitive development, how they're doing, what we do for discipline. That's the sort of message that we also want within our programs—that we have to have a comprehensive view of children and their development."
I think there's been a lot of attention placed on child survival over the years to really make sure that kids live. We really need to make sure that they thrive and not to waste any of their potential."
"We are so committed," says Sister Pauline Acayo, CRS project coordinator for SCORE in Kenya. "We are deep in communities where others aren't. We see the result in these children immediately."
When he began the program, Brian received weekly nutritional supplementals to help him grow. He did exercises to assist with his coordination and used colored blocks to stimulate his brain and grow motor skill development.
"We try our best to make sure that children attain age-appropriate developmental milestones," Sister Pauline says. And play can be as important to that as nutrition and coordination drills. "Play helps a lot for them to develop cognitively," she says. "Children express their emotion more in play. The child plays with the mother and father, there is that bonding. Play is communication."
Today, Brian goes to school. He is a happy little boy who loves to run and play with his school friends. He dresses himself and has shown dramatic improvement both cognitively and emotionally. "His parents are very happy. They said they've been doing things together they weren't able to do before," says Sister Pauline.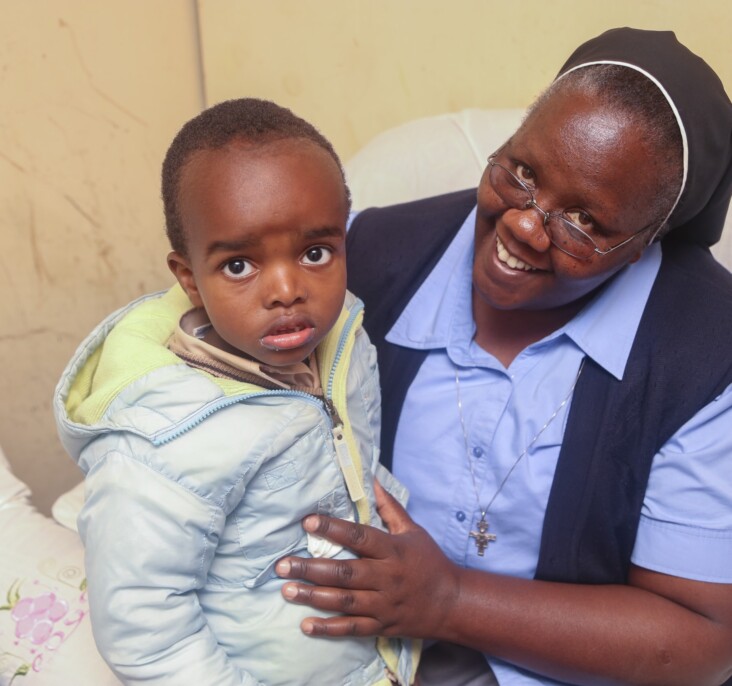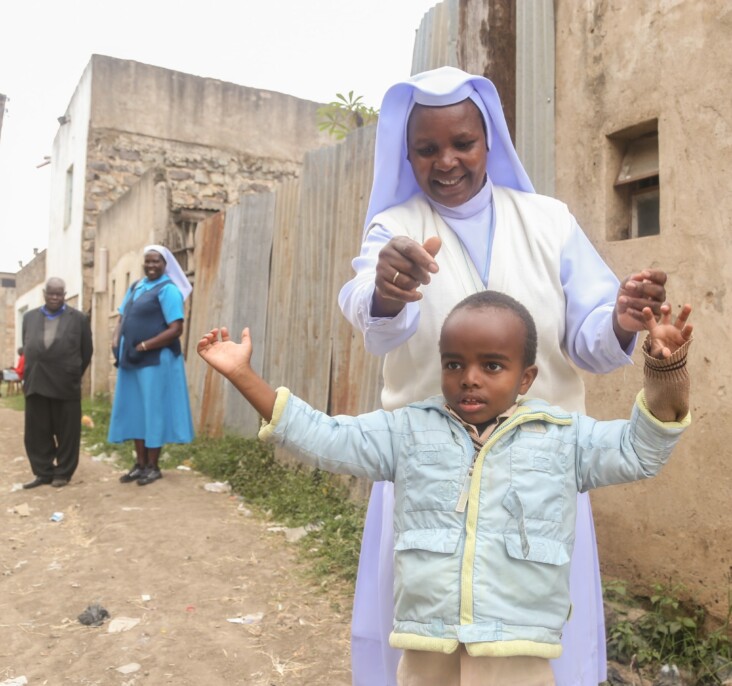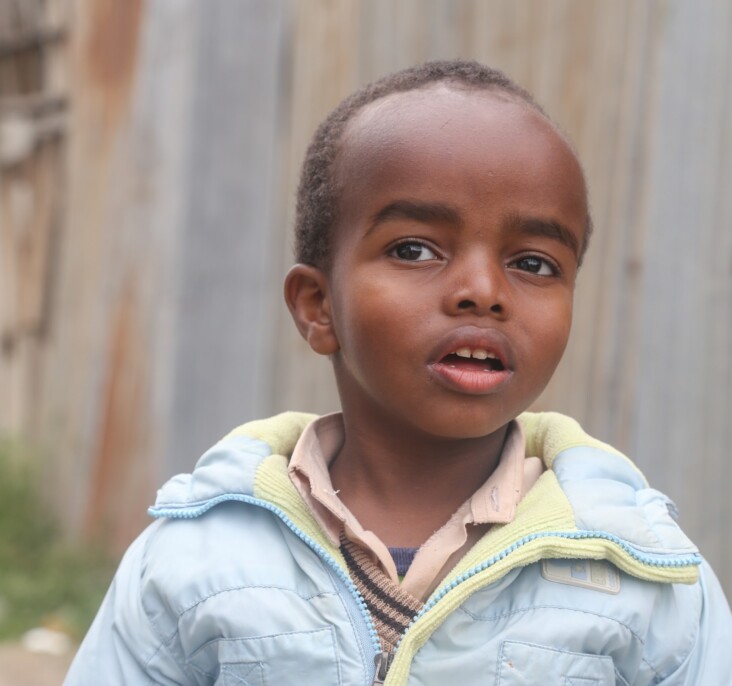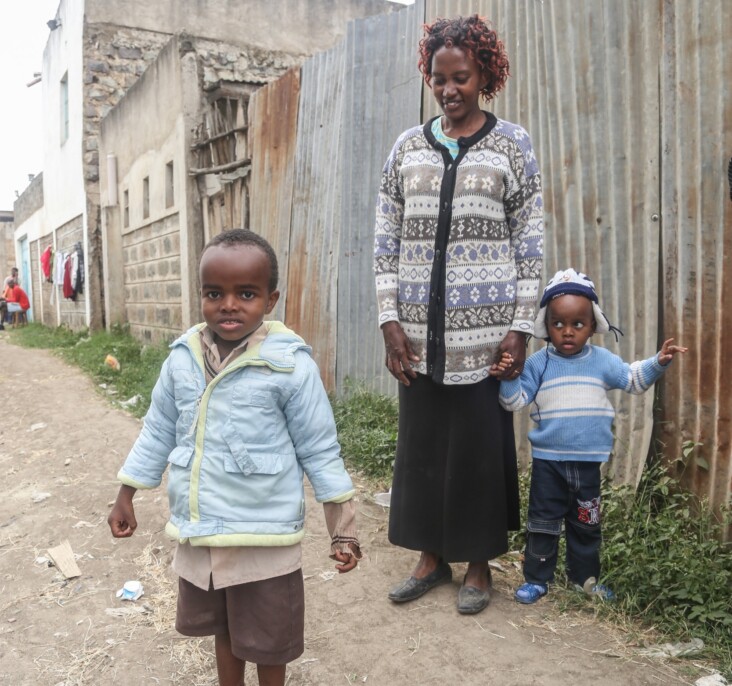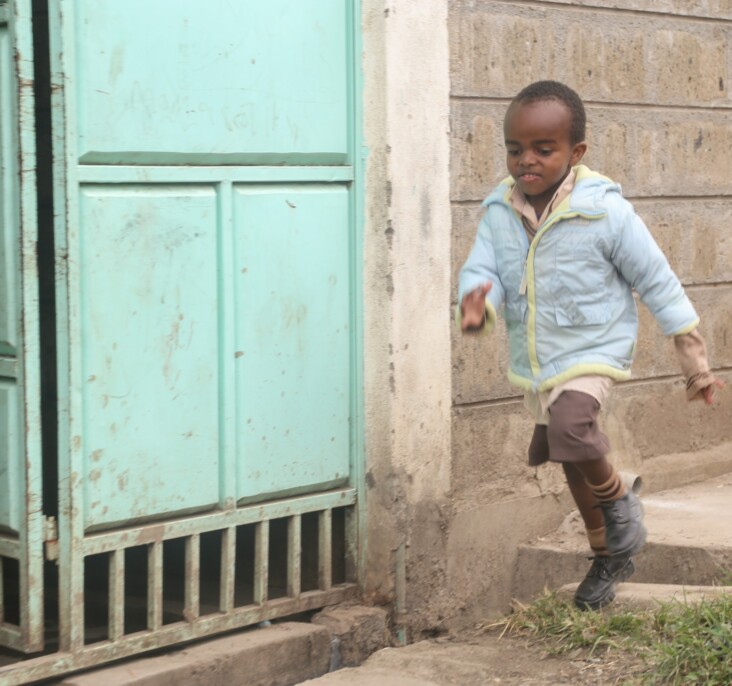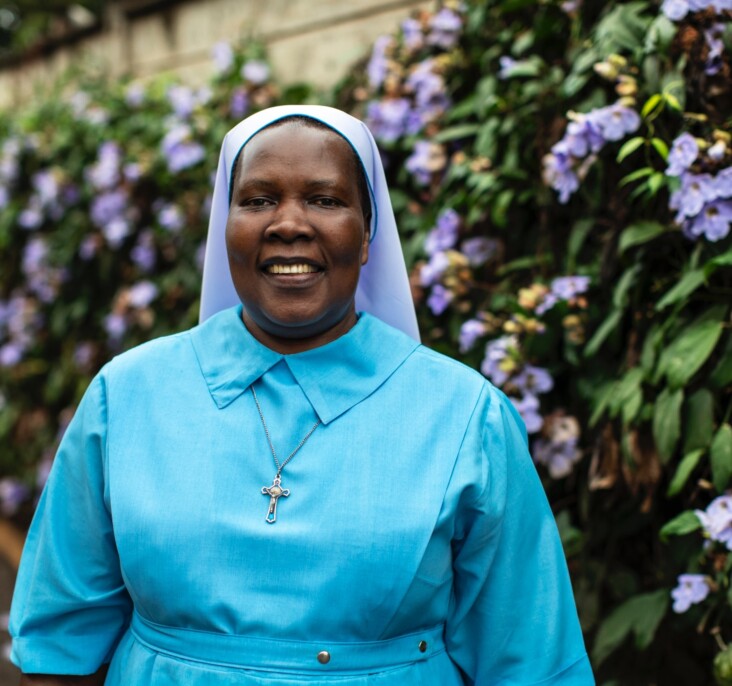 Changing Attitudes and Getting Results
Brian's success story is not unique. More than 3,000 children have benefited from the SCORE program since it began in 2014. More than 1,400 sisters work in 48 congregations to teach caregivers about the importance of early intervention.
Many of these regions struggle with malnutrition. A balanced diet is critical to early childhood development—and can be especially challenging for children diagnosed with disabilities. The sisters show families how to grow healthy food for their children and, in some cases, provide home feeding services and monthly health checks for children. The program also reaches those in the margins—children with disabilities and those with HIV and AIDS. In some communities, children with disabilities are shunned.
"We have been changing attitudes, and helping children grow holistically," Sister Pauline says. SCORE combats the intense social stigma that surrounds disability, which can drive parents to hide their children away when visitors drop in. Parents of children with disabilities are learning that those children can have bright futures too. "We want them to feel welcomed and loved," Sister Pauline says.
And at CRS, we go far to find children in need. "We are deep in villages where there is no electricity and no clean water. There are no nongovernmental organizations and no government presence. But the sisters are there," says Sister Pauline. "When we help a child now, it makes the child productive in the future. The child will be able to love, share and be a fully developed, spiritual person."
By partnering with local organizations and churches, leveraging private support, and changing outdated beliefs about what children need to thrive, we can achieve widespread change. It starts with hope and a vision of transformational change. It's what we should do and what we can do, together.
"Hope is the ability to imagine something different for yourself. Especially if all you've ever known is what you've seen," Shannon says. "Twenty-five years from now, I think that these children will have hope. I think that they will have laughter. I think that they will have love, and I think they'll be looking for ways that they can give back themselves."