Each day, parents living in extreme poverty all over the world confront an unthinkable choice—providing for their children or keeping their families together. Children are surrendered to orphanages simply to ensure their basic needs are met. Loving but financially insecure families lose their children to public systems that are ill-equipped to nurture and care for them as well as their relatives could.
Though millions of children are raised in orphanages, 80% to 90% of them are not orphans. Orphanages are a symptom of poverty—not a solution to it. All children deserve safe, nurturing families.
That's why CRS focuses on reuniting the world's most vulnerable children with their families, preventing separation in the first place. Children who grow up in safe, nurturing families have better outcomes in life—including improved cognitive, emotional and social development, better health, and greater success in school. We address this global problem at its roots. To strengthen families, we help caregivers learn and practice positive parenting, connect families with supportive communities, help children access education, health and social services, and build families' resources through savings groups, cash grants, school vouchers and financial education.
A Desperate Choice: Ezekiel and Dembe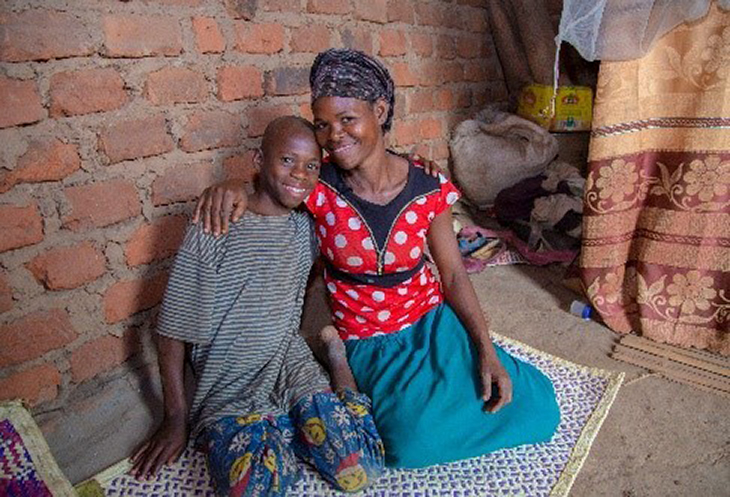 When Ezekiel's parents separated, his mother, Dembe, feared she would not be able to provide for her son. Heartbroken, she trusted an orphanage to give her child a better life.
But there is no substitute for the love of a family.
One year later, a CRS social worker in Uganda learned of Dembe's situation and offered Dembe a modest cash grant so she could repair her home and expand her farm—enabling her to support her son again. Dembe, her new husband and Ezekiel also received reintegration counseling to help repair damaged trust and create resilient relationships.
Reunited with his loving family, Ezekiel is now thriving—at home and at school. "I'm so happy Ezekiel is growing up with me," says Dembe. "I'm just so grateful that he knows me—that he knows who I am."
CRS teams educate caregivers about positive parenting practices, help children—especially children with disabilities—attend school and access health services, and provide resources through savings groups, cash grants, school vouchers and income-generating activities.
To Grow and Thrive, Not Just Survive
"We build the capacity of the immediate person," says Sister Pauline Acayo, early childhood development project coordinator for CRS Kenya. "If it's a child, we build the capacity of the caregiver, of the father, the mother or the grandmother."
Working with our unique and broad network of faith-based partners, we transform orphanages into family and community service providers, training staff to offer new services for the most vulnerable.
Shannon Senefeld, vice president of overseas operations, is a champion of programming that ensures children are raised in families so they can grow to their greatest potential. And she's a mom of four children of her own. "We're really working on making sure that children have the environment they need to grow and not just to survive," she says.
We really need to make sure that they thrive and not to waste any of their potential. We have to have a comprehensive view of children and their development."

—Shannon Senefeld
A Multi-Generational Family: Reyna and Ana Maria
Ten-year-old Reyna was left each day to care for the four other youngsters in her family when her mom, Ana Maria, left for work in Zacapa City, Guatemala. There was no one else to help. Ana Maria's grandchildren, Reyna's nieces and nephews, had been left in her care when their mother abandoned them. Ana Maria was the sole breadwinner—she needed to work.
Eventually, authorities discovered that Reyna was caring for her young family members. The courts began proceedings to remove the children from Ana Maria's custody. All the children were placed in a state orphanage.
Luckily, a team made up of a social worker and psychologist soon began working with the orphanage. With support from CRS, they sought out cases where children could be reunited with a known relative who was then provided with the necessary support to care for them. Cases like Reyna's.
Ana Maria was assessed by the team as willing and eagerly awaiting a chance for the children to return home. After six months apart, Reyna was reunited with her mother—and Reyna's nieces and nephews, with their loving grandmother. With guidance from the team, Ana Maria was able to register the older children in school and ensure enough household income.
A case worker now visits every few weeks to ensure the family is stable and healing from the separation. She describes Reyna as "emotionally strong." The older children are thriving at school, and Ana Maria is working with the team to outline family goals, like strengthening household economics and improving parenting skills, aimed at keeping them together for good.
A Hopeful Future
Because we should, and because we can. At Catholic Relief Services, our deep faith tells us to help our brothers and sisters in most need. We know how to empower families. And we have vast Church and professional networks as a result of more than 75 years' experience helping the world's most vulnerable people.
We are called to put our faith into action to care for the whole child, the whole family and the whole community. As a thought leader in health, education and microfinance, we can provide families and communities with the comprehensive support they need to overcome poverty.
"We are working very hard to support children remaining in their families so that they don't get placed in institutions," Shannon says. We are working to give families hope that the future doesn't have to look like the past. The future for these children will be bright.
In the past 20 years, the world has made great progress in reducing child mortality and uplifting millions of families out of poverty. Yet in the world's most vulnerable communities, extreme poverty is still preventing children from achieving their God-given potential. Families are key to a child's success. Together, we can create a transformational movement to strengthen families and support vulnerable children. Together, we will make this a world where every child grows up in a safe and nurturing home.