In times of crisis, forced to flee all they know just to save themselves and their families, people can lose so much. But the first step in rebuilding is having a roof over one's head and a chance to rest in safety. When a home is destroyed, dreams are lost too. Alternatively, a new home is a chance to start dreaming again. It is more than just a building—a home is hope that life will go on after tragedy.
In Search of Home
Over a million Rohingya refugees flooded into Bangladesh in 2018, fleeing persecution in neighboring Myanmar. They took up residence on unstable coastal hillsides, where they became vulnerable to new risks from climate change. Bangladesh has already seen its own citizens internally displaced by climate catastrophes. The tarp tents did little to protect residents from frequent monsoons and heavy winds. "The land is a concern. If there is heavy rain, there is the potential threat for landslides and floods," says Caritas Bangladesh executive director Francis Atul Sarker. "The whole hill can melt like ice cream, creating havoc within disaster."
In collaboration with our Caritas partners, CRS is helping Rohingya refugees transition to sturdier shelters where they can access services necessary to begin the process of healing and rebuilding their lives. In the next 10 years, fueled by Go FAR: The Campaign for Catholic Relief Services, we will bring safe and dignified homes to 1.5 million people. Because we should and because we can.
CRS views shelter programming from a perspective of integral human development—the physical, spiritual, mental and emotional aspects of rebuilding a home. "For us, community building—the sense of helping each other—is the most important," Francis says. Many refugees are not simply provided a new shelter. They are given shelter kits and taught to construct homes for themselves or their vulnerable neighbors.
Building a Better Life for His Neighbors
Hamidullah, a Rohingya refugee, works with CRS to construct new shelters for his fellow refugees. "I'm thankful Caritas created this work opportunity for Rohingyas. I use the money I earn to buy groceries and treatment for my children," he says. Hamidullah arrived in Bangladesh after, he says, government forces burned his home down and assaulted women in his family. "I hope for justice in my country," he says. But until it is safe to return home, he is grateful to be working to create for a better life for his family and his fellow Rohingya brothers and sisters. "These houses are much better than the previous houses. The kids can play here."
Ziabur Rahman, whose wife was nine months pregnant, expressed his gratitude for the upgraded shelter: "I was there in a landslide. My house collapsed from rain. I could have died but by the blessing of God I am here." He hopes to bring his child into a safer world. "We came here looking for peace. I am so pleased to see this new house."
Along with construction of sturdier housing and some relocations, Caritas is working to prepare the existing camps for a future of extreme weather. Newly planted trees will prevent soil erosion that leads to landslides. Dirt pathways and staircases have been reinforced to prevent wash-out. Drainage systems have been implemented to direct floodwaters away from homes.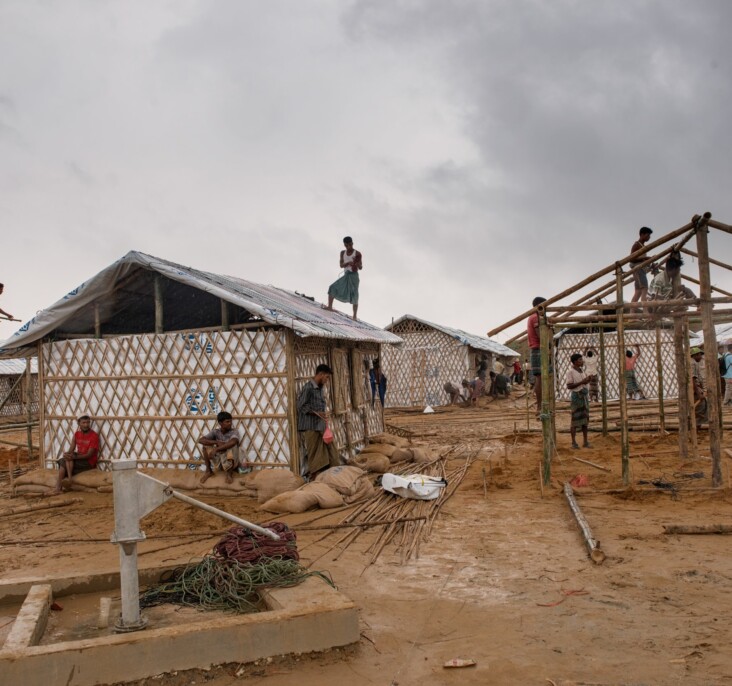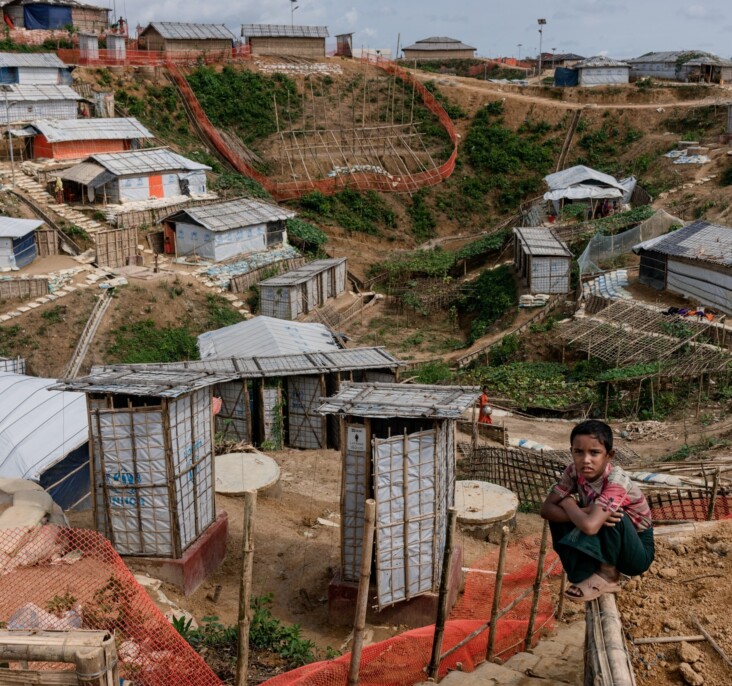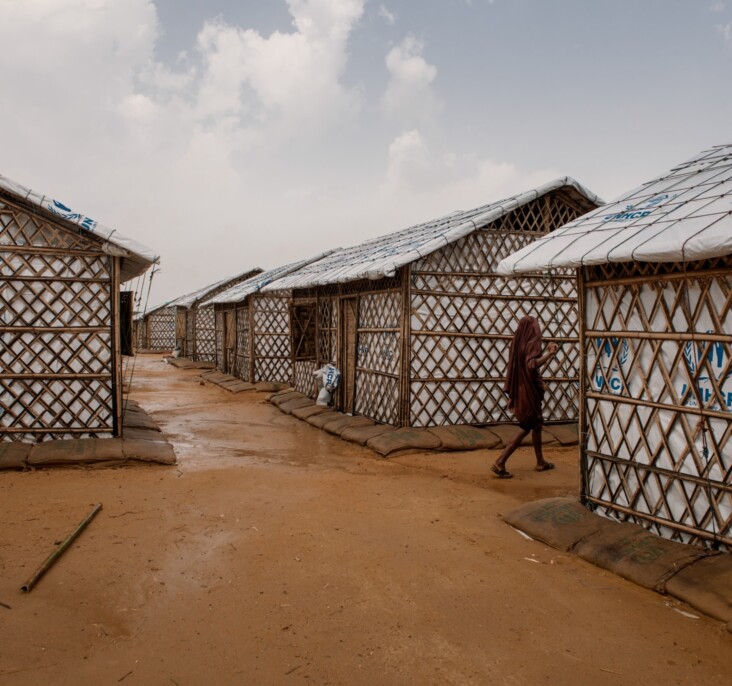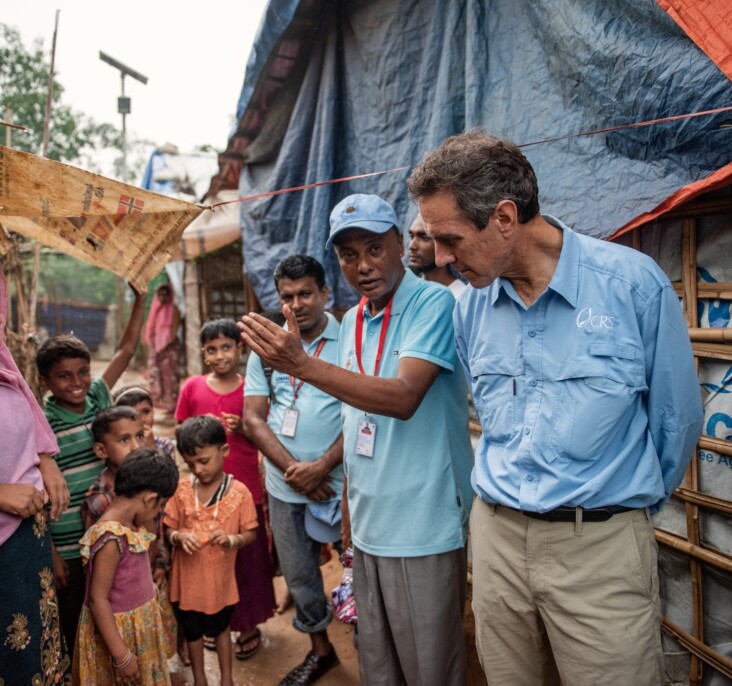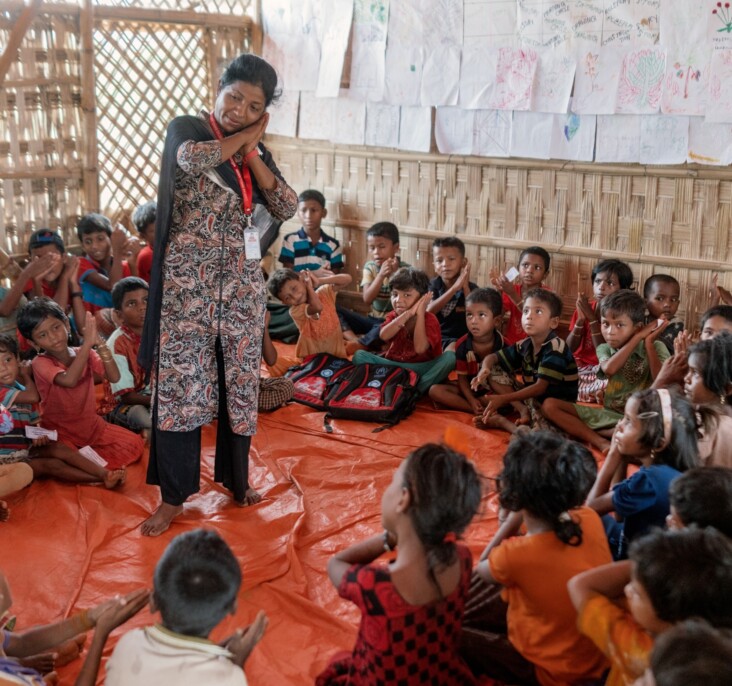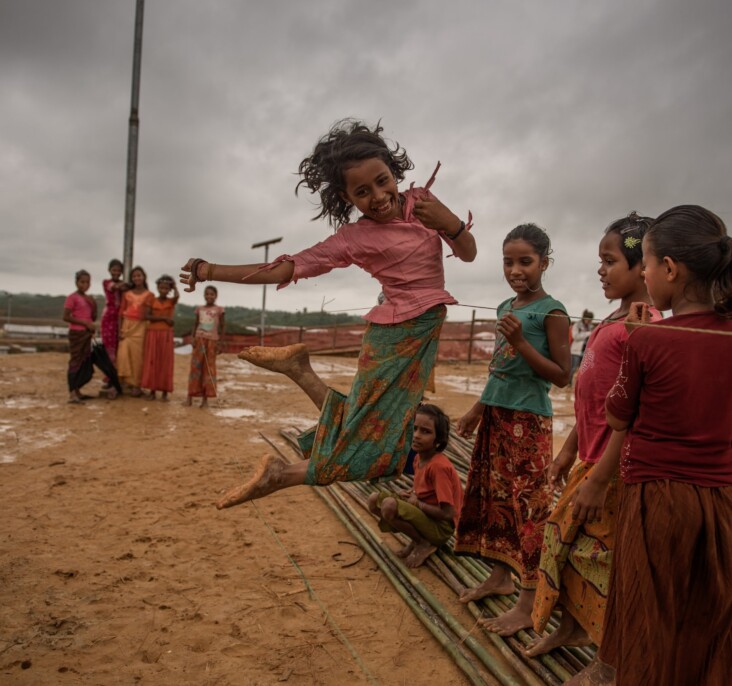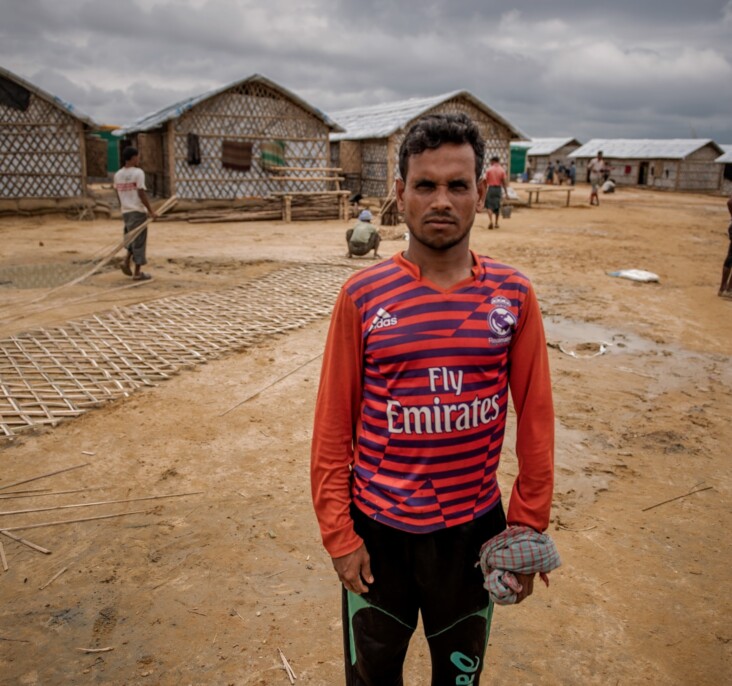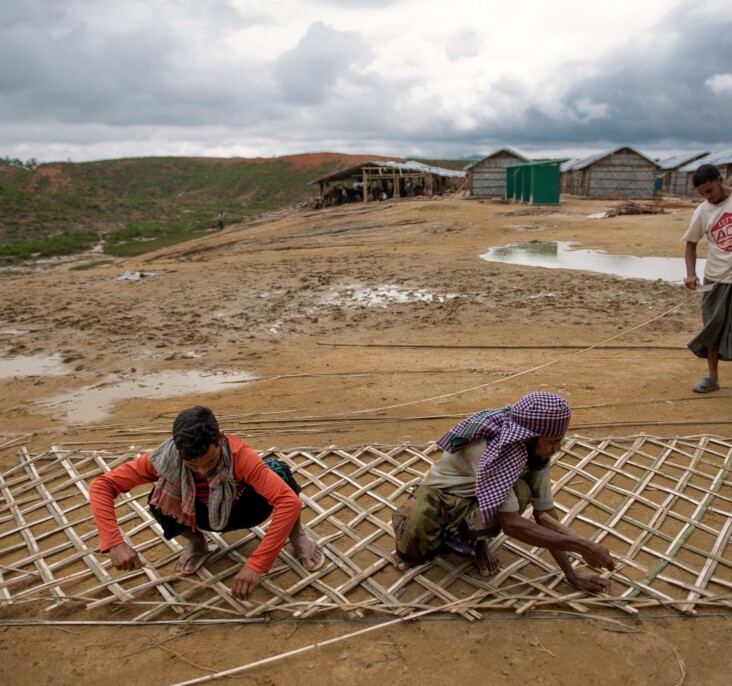 For many Caritas staff, this work is a calling. They themselves have walked in the shoes of refugees. Executive Director Francis Atul Sarker fled Pakistan on foot when he was just 12 years old. These experiences inform the role of empathy in their work. "God has blessed me," he says. "For me to be a refugee at that tender age, God was preparing my heart to take care of the people."
Home is More Than a Building
In 2013, only a few years after the much-celebrated birth of South Sudan as an independent nation, the country erupted in civil war. By November 2016, the war had reached Jimmy Luate's hometown of Yei. He, with his wife Jackie and their 6-year-old daughter Stella, had no choice but to flee. "On the day we left, I just picked up my family, we jammed in a bus and moved to the border," Jimmy recalls. "I could not pick up anything from my home as it would've raised suspicion."
He had to leave his brother and grandfather back home. Leaving was hard but staying was impossible. Jimmy had already lost many relatives and friends in the brutal violence. After an exhausting journey, Jimmy and his family arrived in the Bidi Bidi settlement in northern Uganda.
"When we arrived in the settlement, life wasn't easy," he says. "It was scary. The life of a refugee is a difficult life. We ran from bullets but now we may die from disease."
From a Camp to a Community
But soon Jimmy watched the camp grow into a community where he and his family could be happy. "When we first came, we only had makeshift shelters, and every time it rained, the whole place filled with water. You couldn't sleep," he explained. "And life was the worst for the most vulnerable."
"When CRS came, they went to those people first and brought so much joy. Now we have places where we can keep our food dry, a place to sleep and a place for our children to be safe. It is marvelous and I see a lot of appreciation," Jimmy says.
Our homebuilding programs do more than build homes. We take a broad perspective to build strong and safe communities. We incorporate key signature activities like restoring livelihoods, improving health and emotional well-being, ensuring water and sanitation, supporting legal and financial services, and bolstering resilience against future disasters. We also address issues related to land tenure, urban planning, infrastructure, reconstruction and transportation.
Even after a disaster has passed, CRS and our partners help families repair their damaged homes and restart their interrupted livelihoods. We do not forget people in need.
CRS programming taught the importance of cleanliness and personal hygiene. "Now we have latrines and wash stations for after we use the bathroom," Jimmy says. "Before you go to fetch water, you make sure you are clean so there is no disease spread of something like cholera."
What Was Missing, We Are Now Receiving
CRS believes that time spent as a refugee does not have to be lost time. We work to create self-sufficiency and build livelihoods skills while ensuring basic needs are met.
"Together, with the government of Uganda, CRS has seen to our needs. Now these people, their lives will transform, and one day they will be very good citizens who will transform South Sudan," Jimmy says. "Who knows? Maybe the president of South Sudan will come from the youths here. They will be the candles of change."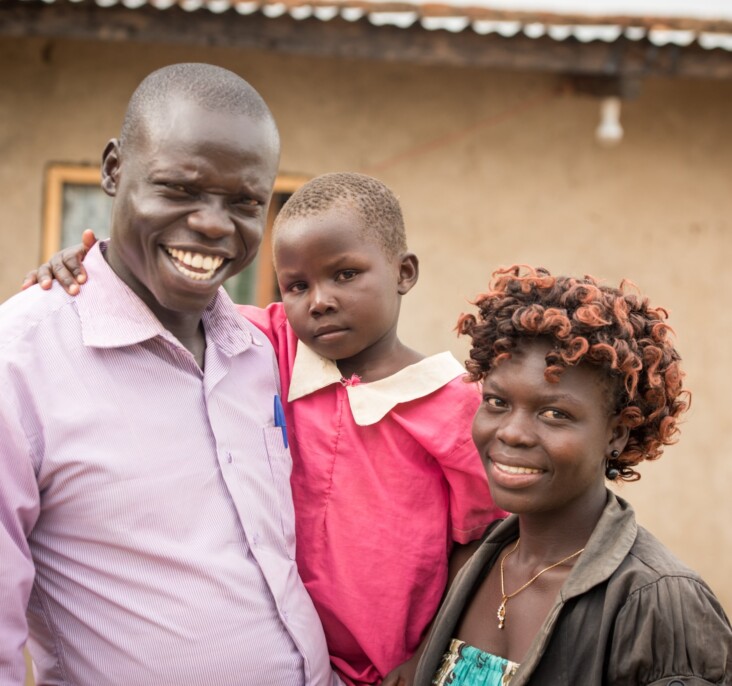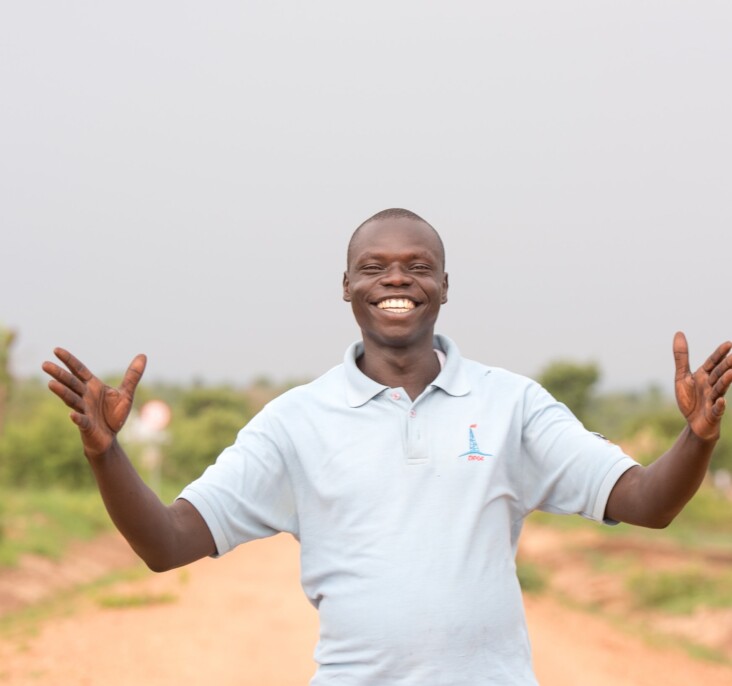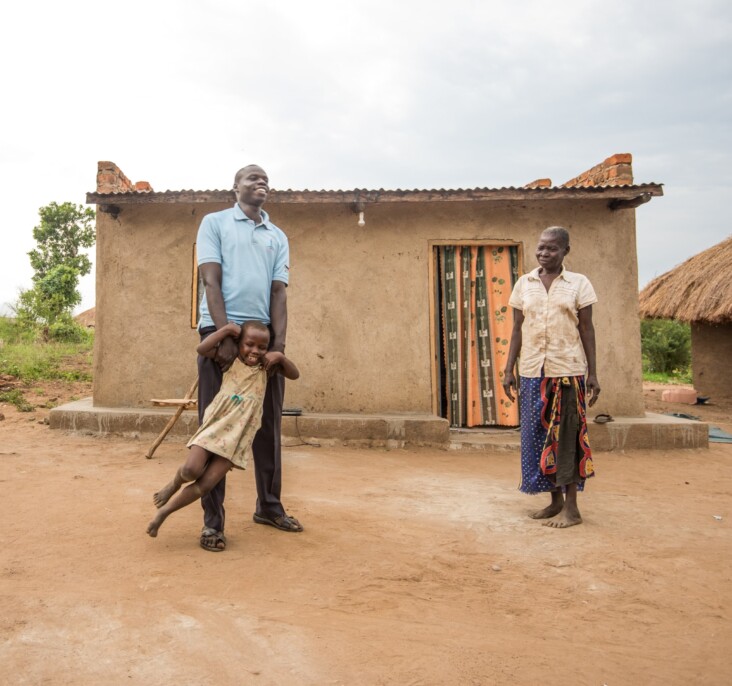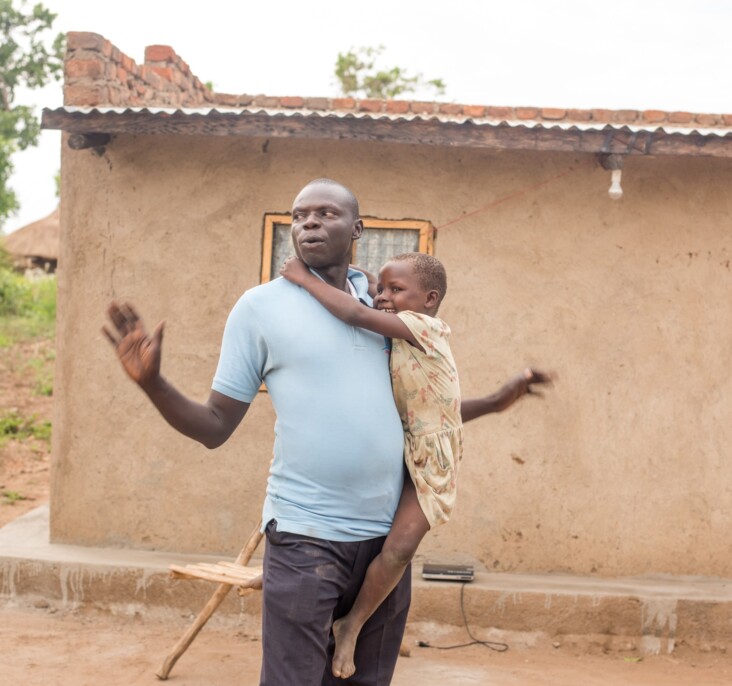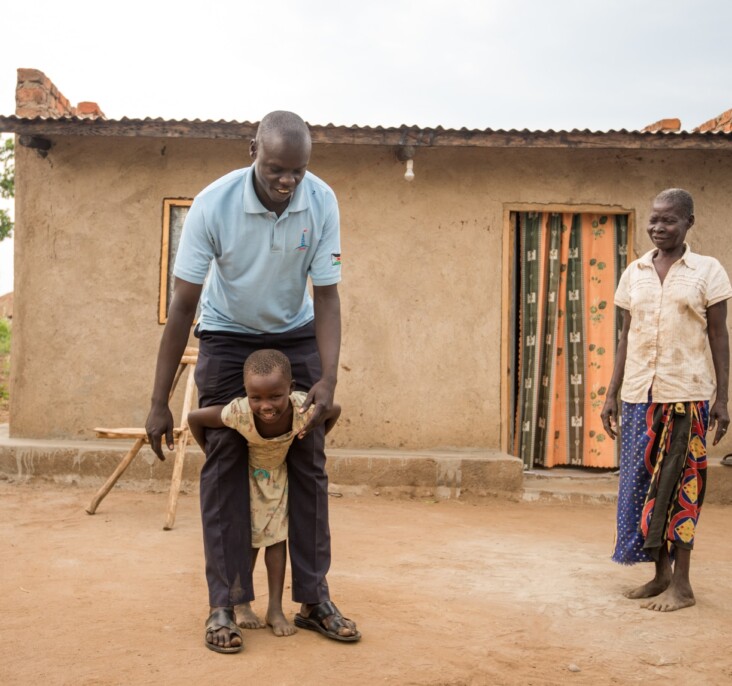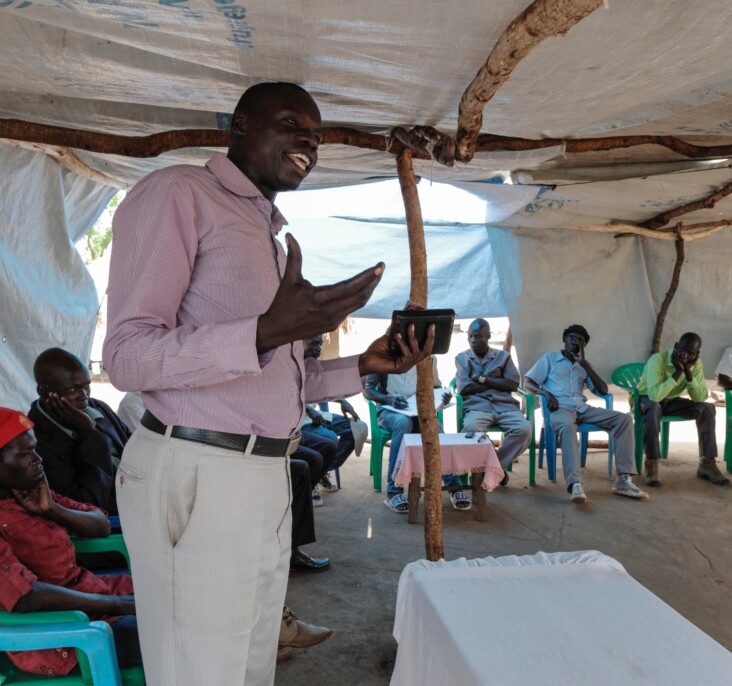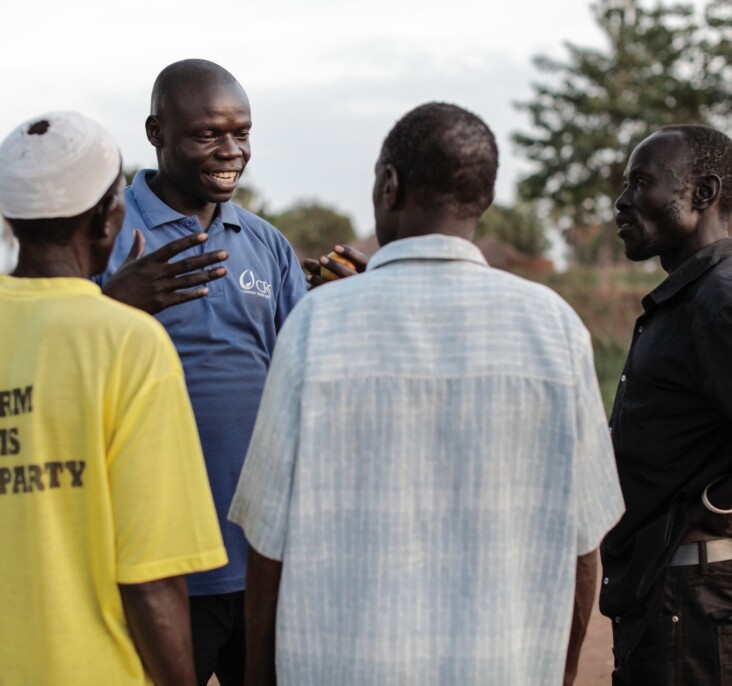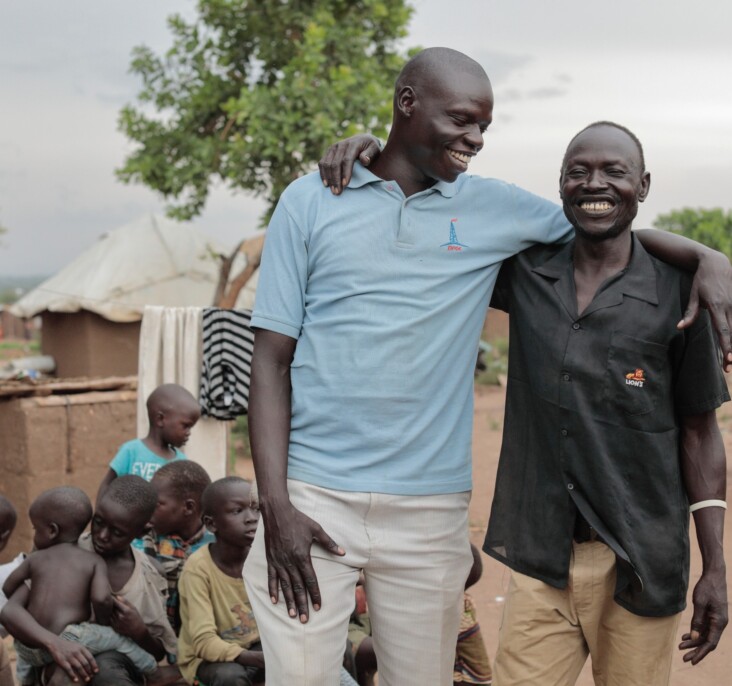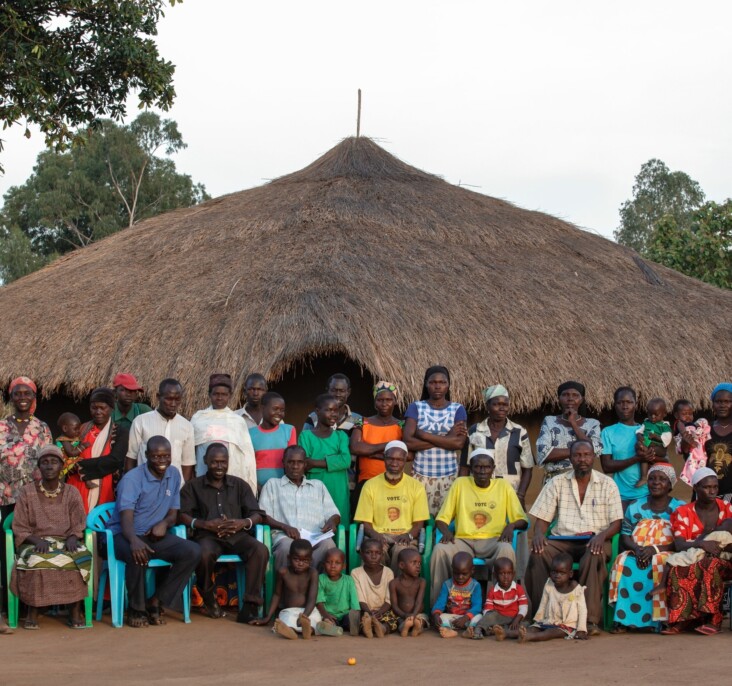 Lessons to Take Home
South Sudan is home to 64 tribes, and the civil war that has broken out there has fallen largely along ethnic lines. A peaceful future can only be built on values of human dignity, brotherhood and community free from such potentially violent divisions. Forced out of his homeland and united by communal trauma, Jimmy began to see past the tribalism he had known. "In the camp, we came to live among people we didn't know, who didn't know us," he says. They are of different tribes, but we started building ourselves together. And now I see them as brothers and sisters. I believe that these are lessons we'll take back home and they will cement our country, where we will live beyond such divisions."
Jimmy was elected to a position of leadership within the settlement, to communicate to CRS the needs of the community. "With CRS, the work began to go very good. I became a hygiene promoter and a supervisor," he says.
Jimmy was able to save money and build a house for his family. In a position of leadership in his community, he has a voice in ensuring the needs of his fellow refugees are heard and met.
It is an opportunity and an honor for me to serve my community. I feel blessed. This work has changed my life."

—Jimmy Luate
Like Annet Konga, who was orphaned in South Sudan and led her siblings to safety and a new house in Uganda, Jimmy sees a brighter future in South Sudan.
"I believe that one day our differences shall come to an end. Our blood remains the same. When I pinch your hand, you feel pain. Likewise, if you pinch mine, I feel pain. By the time we go back we will have learned, this is my brother, this is my sister, no fighting. Let's forge our way forward together for, one day, a better South Sudan."