While still a child herself, Annet Konga became the guardian of her three younger siblings. In 2012, within a month of each other, her parents passed away—her father from an AIDS-related illness and her mother from tuberculosis. The following year, civil war broke out in her home country of South Sudan. And yet she managed to live in these conditions until 2016, when the danger became too great.
"When the Dinka and Nuer tribes started the fight, we were asked 'What are you waiting for? Staying here has become too dangerous.' My siblings were crying in fear." Annet's neighbors were shot dead and an unprecedented number of refugees fled. Annet took her brother, Emmanuel and sisters, Irene and Gladys, and followed.
Carrying the youngest on her back, Annet traveled with the children in the dark and faced great danger from rebels on the road. "They took our bags and clothes. They wanted me to untie Gladys and leave her there. I refused. I said, 'If it means dying, we shall all die here.' They beat me but they let us go."
Annet eventually got the children to safety at the Bidi Bidi Refugee Settlement in Uganda. "Life without my mum was a challenge," Annet says, "but what made us come here was the war."
Shelter: A Process, Not a Product
Hosting 1.5 million refugees is challenging, but Uganda is undertaking that challenge with open hearts and borders. Refugees receive plots of land to farm so they can begin to rebuild their lives. In partnership with the Ugandan government, CRS is providing lifesaving services to burgeoning communities and transforming temporary shelters into resilient homes.
"We've placed families at the core of our homes program," says Niek de Goeij, CRS country representative in Uganda. "We're looking at shelter from a more holistic perspective. We need to consider the physical part—the shelter—but we also need to consider the spiritual, financial and environmental factors that play into integral human development."
Shelter is a process not a product. "To lose a home after a disaster means you have lost pretty much everything. When you have lost the place where you live, you cannot get on with your life," says Seki Hirano, CRS senior technical advisor for shelter and settlements. That's why CRS shelter programming focuses first on protecting lives, then on rebuilding them. When they have a roof over their heads, families can begin to engage in comprehensive healing.
CRS is an industry thought leader in emergency shelter. We are community and market focused, using local materials, technologies and labor whenever possible. Our designs are tailored, taking into account the unique needs of different communities. Our homes are safe, resilient structures that will endure in difficult conditions. Our vision is integrated, connecting housing to other emergency and development activities like livelihoods training, water and sanitation, environmental sustainability, disaster risk reduction mapping and more. "We want to support the full recovery of that person or family or community from such devastating crisis," Seki says.
Life in Bidi Bidi
Even free of violence, life was still difficult for Annet and her siblings in the months after arriving at Bidi Bidi. "I am in charge of my family and I do everything alone," she says. She cleans, prepares meals and cares for her siblings. Simply fetching firewood to cook with can take upward of eight hours a day.
And at the end of each long day, the family was sleeping in a tent that leaked whenever it rained. Safety was also a concern in the settlement, especially for young women and children.
That's why CRS is building safe, dignified homes with sanitation facilities for families like Annet's—serving over 3,750 people in Bidi Bidi and 2,750 people in Kyangwali settlement. These houses provide shelter from the elements, a water tap and doors that lock. "I'm very happy that CRS built me a house," Annet says.
I can imagine being happy in this house. I see my siblings happy and feel there is still hope for them."

—Annet Konga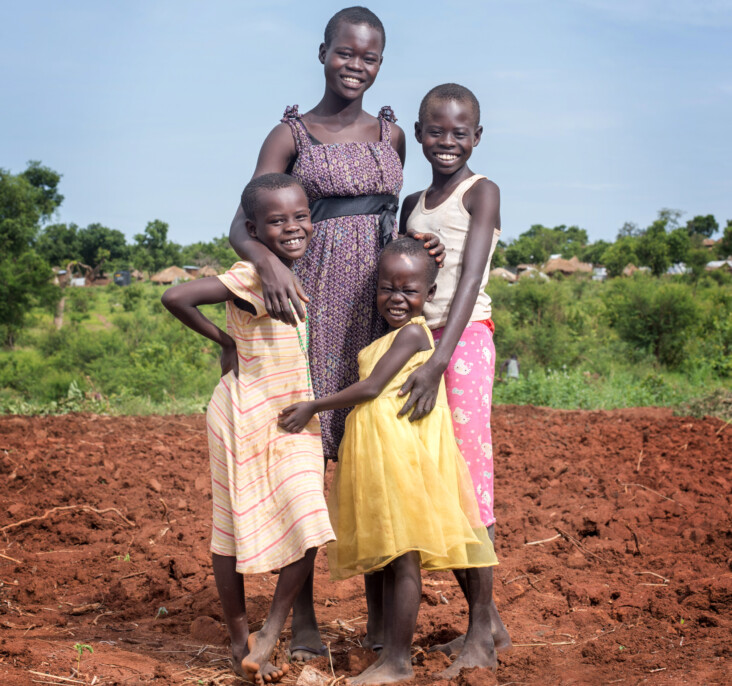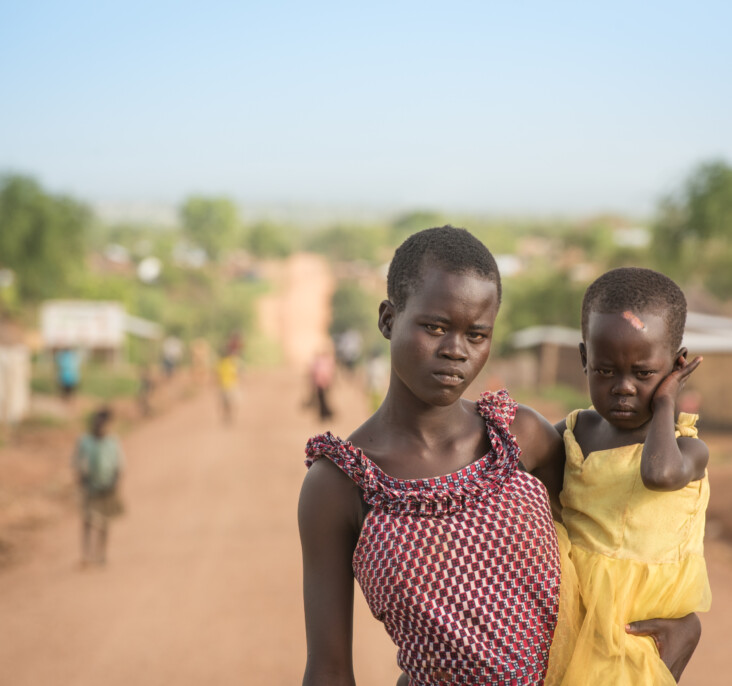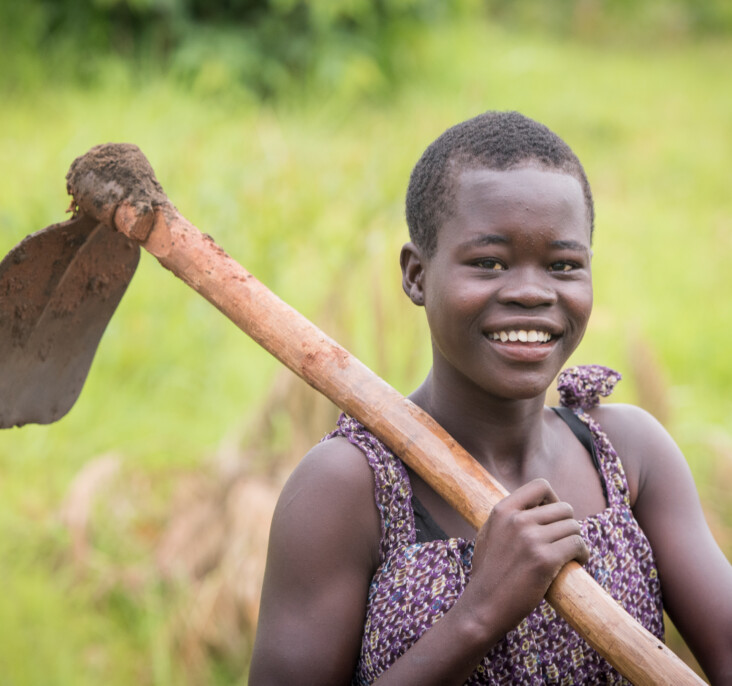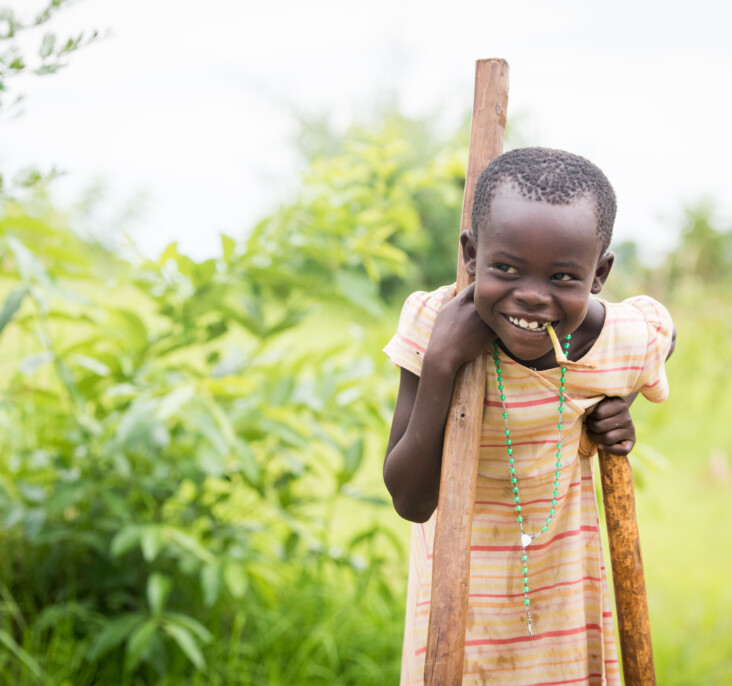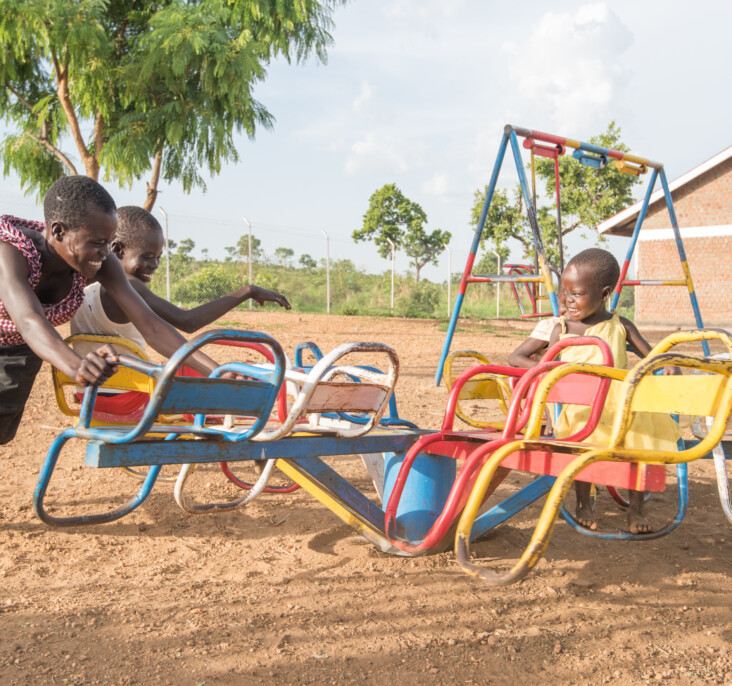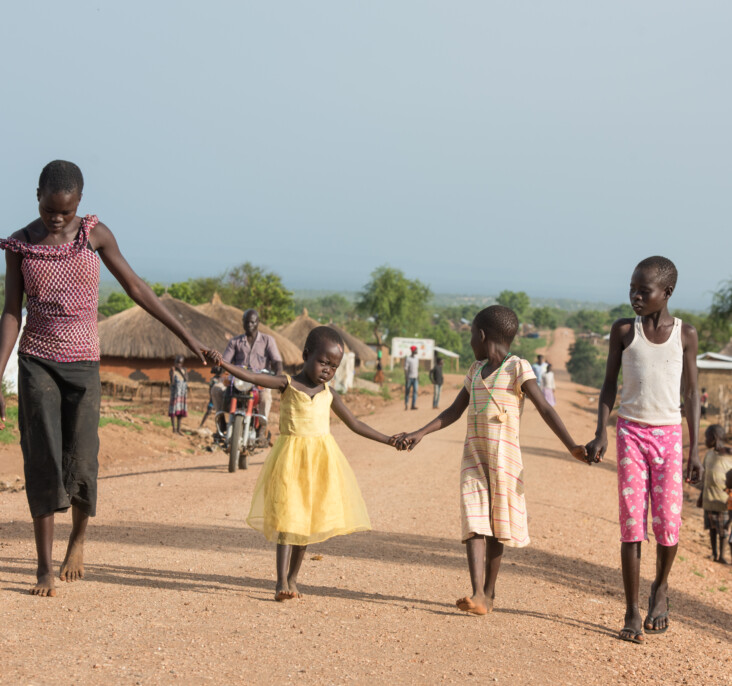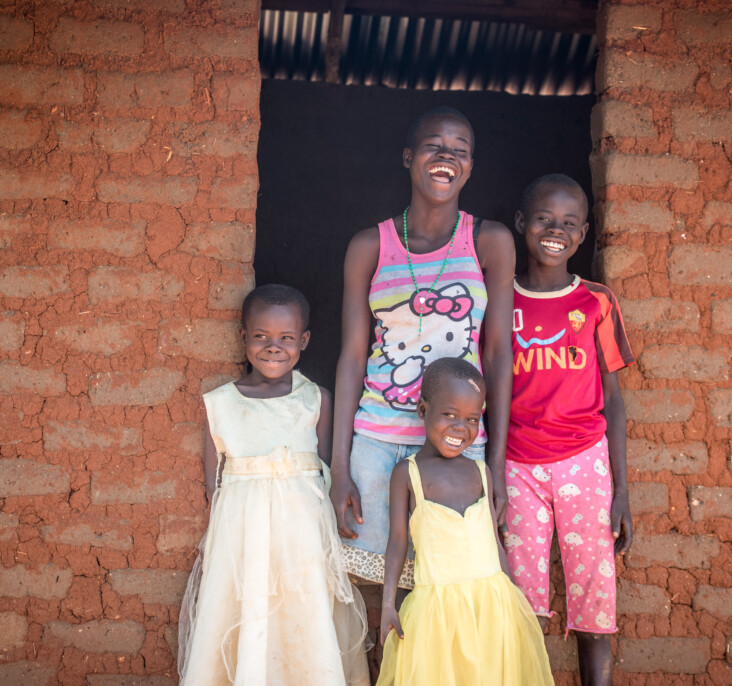 Community Involvement is Key
Just as a home is central to a family, homes are central to the CRS approach to emergency response. But it isn't as simple as putting up new structures for families in need. Strategic planning, consideration of local conditions, and community involvement ensure that new settlements will be able to thrive alongside local communities. CRS partners with local stakeholders to understand what an integrated community built to last should look like. The tools may be similar, but sustainable programs require a unique understanding of the people, problems, histories and culture of every place.
"What we're trying to do," Niek says, "is work with these refugee communities and the surrounding host communities and just ask them, 'How do you want your community to end up in the next three, five, 10 years? What does your perfect community look like?'" CRS' role is then to ensure that communities have the resources, knowledge and power to makes those goals into realities.
A Foundation for the Future
Annet prays for peace in South Sudan. "I want the war in Sudan to end so that we can return to our country," she says.
Life is challenging for Annet and her family in Uganda, but she says she is continually looking forward. "CRS has helped my family. I have decided to put what happened behind me," Annet says. Their new home is a foundation for rebuilding, for new goals and new opportunities. "I hope my siblings will get proper education and stay healthy so that we can be self-reliant in the future."